This blog is about network marketing but whereas I usually do not mention my primary opportunity I will make reference to it here:
You might guess that while I am passionate about our Kakadu business, I see huge value in the Network Marketing industry as a distribution model and a way for us ordinary folk to make a decent income.
However, some people have limiting beliefs and they convince themselves that making money is not right or that a business is something they couldn't run. Or that they could never recommend a product or a business to the people they care about or who they know well.
Their decision NOT to invest in themselves and to change their thinking and make a real difference in the world can be extremely expensive.
But if you have an open mind…
If you want to know how to have a great life and help others to as well.
Please read on.
Firstly, can I refer you to two excellent videos (they are only short – I know, time is money)? They are by Tim Sales who I greatly admire as a network marketer. They address two limiting beliefs that some people have about our industry and which might be objections you have had thrown at you if you've tried to 'pitch' Kakadu (or any product or service) to others. I say pitch because this is what most newbies to network marketing do rather than discovering what people need and simply presenting your possible solution. But more on this later.
Tim Sales asks the question, Do Most People Fail in MLM? I love his succinct analysis and comparisons. This is right on the mark.
Then there's another video from Tim, MLM: Who's Getting Rich and Who's Not.
So why do I like Network Marketing as a vehicle to wealth?
Simply, it's the leverage that builds on your expertise, your money and time.
Let me ask you, would you prefer to take $100,000 now or choose to be paid 1 cent (if we still had them that is) today, 2 cents tomorrow and doubling like this every day for 30 days?
The doubling cent would look something like this: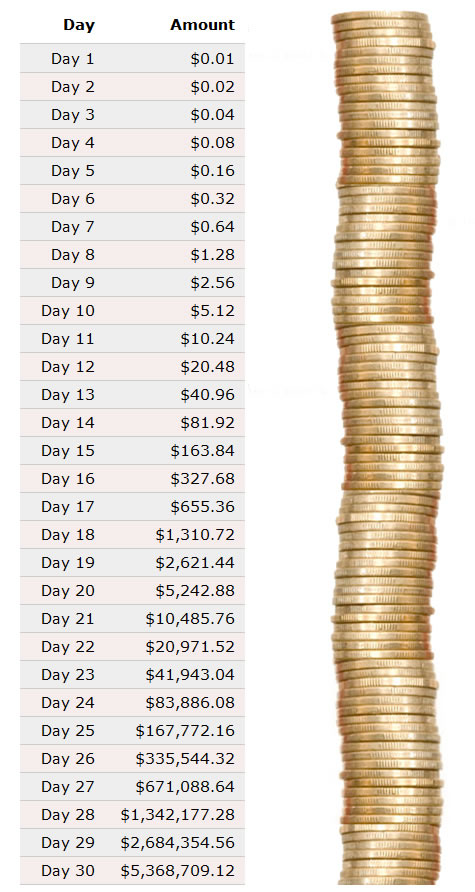 So you see that a mere cent can turn into real money in just a single month
through the power of exponential growth. It is also what our business opportunity
is all about and we get there through leverage.
In our opportunity, we enlist other people who have the self interest in making sure that the doubling or duplication happens.
It is not cents we deal in but people who are motivated to improve their health
AND their wealth. If you found just five people and showed them how to also find
five people each, do you see the application of the exponential growth and leverage that's possible?
'Inertia' is a physics term that basically means that a body is predisposed to REMAIN in the state that it's in. If a body is STATIONARY, it does not want to move. If it's in MOTION, it wants to continue in motion in the DIRECTION it's traveling…
Therein lies the dilemma.
I just read an awesome quote: If making a change is important to you, you will find a way. If it's not, you'll find an excuse.
Making change or disrupting inertia is the hardest part but once it happens, it gets EASIER AND EASIER.
But… and there is always a but… Without the first 'push' nothing happens.
Did you know that a rocket uses 80% of its fuel just to take off?
It is the same with our business. You need to get the skills to help others to get the skills to leverage your passion to get results. You need to teach others to make taking their Kakadu a daily habit. And you need to build a team which goes out to build their teams to drive product through your business.
And the best part of this business is that it can be a lot of fun. I really enjoy the 3-way calls where my team members arrange a caller for me to talk to and they listen in. I love to teach by example. They call or email me and I build their business while training them to do the same.
---
Subscribe to our Mailing List: